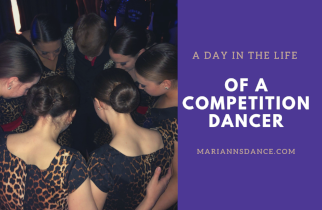 At Mariann's School of Dance, we take pride in giving our kids tons of opportunities to learn and grow not just as dancers, but as people. On top of our regularly scheduled dance classes that perform in recital, Mariann's School of Dance is home to two Performance Companies with different values and goals.
Today on the blog we wanted to feature the fabulous Terpischore Dance Company, our competition dance team that stuns us each and every year.
Competition days are buzzing with excitement, but also require tons of hard-work. Ask any of our company members and they will likely tell you that competitions are SO much fun. But what they don't realize is that they are learning valuable life skills on top of all that fun… which is OUR favorite part.
So we are walking you through the big day! Keep reading to experience a day in the life of a Terpischore Dance Company member on Competition Day.
Stage 1: Prep-Time
Competition day for our company members usually starts at the crack of dawn. Why? Because there is just SO much to do before you hit the stage. Our team must look professional and uniform on-stage, so hair and make-up is super important. Each dancer spends the morning applying their team make-up and sleek hairstyle to look exactly the same as their team-mates. They pile on the hairspray (and pack it for touch-ups later) to make sure their buns are secured for the entire day.
Let's not forget about the sparkly costumes! On the morning of competition day, a dancer pencils in a HUGE chunk of time for packing their bags. They must handle their costumes with GREAT care while travelling to and from competitions, as they are covered in rhinestones and must look sleek and smooth when they hit the stage. The judges will notice if you don't have your hairpiece or accessory on, so dancers must double and triple check their bags for all the essentials. Make-up, hair supplies, snacks, and LOTS of water are also on the list of competition must-haves.
Dancer Takeaways: Responsibility and commitment to their team must be a high priority for any Terpischore Dance Company member. If your hair falls out on stage, or your dance's score was lowered because of a missing costume piece, you are letting the team down. Additionally, competition day teaches a kid how to successfully plan ahead, be responsible for their belongings, and make sure they have enough food/water to fuel their bodies. That's a skill that even adults need to practice sometimes!
Stage 2: Warm-Up
As dance teachers, witnessing our kids feel the pre-performance buzz is so much fun! We teach our kids that it is NEVER a good idea to step on stage without a proper warm up. After getting their costumes on, our company members spend some time getting their bodies warm backstage. While listening to their favorite upbeat playlist, they do some cardio, stretch out their splits, and run through their dances with the team. Group cheers and huddles are also included in their pre-performance rituals which fills our heart to see.
On top of warming up, our dancers must carefully schedule their time throughout the day. They must keep track of what time their dances are scheduled to perform and constantly check to see if the competition is running behind or ahead. There is nothing worse than losing track of time and frantically running on stage.
Dancer Takeaways: Pre-performance responsibilities teach our kids how to prevent injuries and care for their bodies amidst all the competition chaos. We require that they prioritize their warm-up to stay healthy. Additionally, time management is a HUGE part of competition day. It takes practice and careful planning to keep track of all their dances and hit the stage feeling prepared.
Stage 3: Go time!
After all that prep-work, it is finally time to hit the stage. Once the music starts and the lights come on, we watch as our dancers spin and soar. It's amazing how the stage makes our kids come alive and transform into powerful entertainers. The stage time makes the months of difficult rehearsals all worth it. Ask any of our dancers, there is NOTHING like strutting off stage after nailing your routine. The judges were watching, but their scores only matter a little when you feel that awesome!
Dancer Takeaways: The competition stage teaches our dancers things that we aim to teach them all year. Performing forces a dancer to forget their insecurities and be confident in their own skin. There is no hiding on stage, which can be great for kids learning how to trust themselves and overcome their fears. We love seeing them just GO for it!
Stage 4: Awards and Team Time
Once all the dances are complete, our kids anxiously await the results. Each dance is given a score (silver, gold, platinum) and then the top overall scoring routines are announced. All the studios at the competition listen for the results and the highest scoring dances receive giant trophies. It's fun and rewarding to watch all your hard work pay off! We LOVE watching our kids' faces when their dance wins an award or is recognized by the judges!
Dancer Takeaways: While we love hearing our name called, we also teach our kids that competition day is about more than just the trophies. We encourage our dancers to congratulate other teams on their victories and always maintain a positive attitude even when their scores aren't high. They learn sportsmanship and perseverance on top of experiencing the glitz and glam. We end all competition days with a team huddle where we congratulate our dancers, win or lose. Team time and positivity is so important!
There you have it, a day in the life of a competition dancer! If hearing about the big day got YOUR adrenaline pumping, we would love for you to join our team. Auditions are held in June, so stay tuned for all the details! We love watching our kids hit the stage and become better dancers, people, and team members. It's SO rewarding!