Holiday Gift Guide for Dancers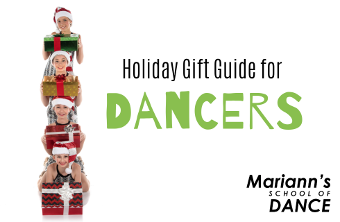 Happy December! It is officially prime time for holiday shopping. Don't know what to get your dancer this year? We've got you covered. We have put together a list of our favorite gift ideas for dancers. Here are ten gift ideas for dancers that any student would love. Happy shopping!
1. A gift certificate for dance classes at Mariann's School of Dance
We are biased of course, but we think a gift certificate to Mariann's School of Dance is a GREAT gift option! When you give a session of dance classes, you are giving a gift that gives LONG after the holidays are over. A gift certificate can allow a child to add a class or experience dance for the first time. A great gift idea for Grandparents or relatives wanting to give an experience. Learn more about our classes here and contact the studio to purchase a gift certificate. We are still accepting enrollment in most classes!
2. Massage Kit
This kit is the perfect antidote to sore muscles! These items will come in handy during the first week back from Winter Break. They are also ideal for warming up and cooling down before class and after class. They are small enough to fit in a dance bag and keep close during competitions, recitals, performances, and auditions. Check them out on Amazon!
3. Shop the Mariann's School of Dance Boutique
Don't forget to swing through our boutique for some holiday inspiration! We carry dancewear, shoes, spirit wear, and accessories in stock that would make perfect gifts and stocking stuffers. Throughout the month of December, most items are 15% off! Mid-school year is the perfect time to gift your child with some fresh dancewear! Check out our boutique online.
4. Bluetooth Ear Buds
Every dancer NEEDS these in their life! There is nothing worse than trying to practice a dance with corded earbuds that get tangled and fall out of your ears mid-pirouette. These earbuds stay securely on your ear while dancing. They connect to Bluetooth so you don't have to hold your device in hand. The sound quality is great for an affordable price.
5. A Subscription to Dance Magazine
A magazine subscription is great for a dancer that likes to read and stay updated on all things dance. Dance  Magazine offers inspiring stories and tips from the pros. It often gives audition advice and lists for summer intensives, workshops, and college dance programs. Grab a year-long subscription on Amazon. Dance Spirit is another great choice for a passionate young dancer!
6. Life in Motion: An Unlikely Ballerina
Misty Copeland is an inspiration to dancers of ALL ages. Her story is a great reminder that with hard work and dedication anything is possible. She has overcome so much to become the ballerina she is today! This edition is perfect for dancers in 4th-9th grades. Have an older dancer? The original version would be a great choice!
7. Big Life Journal: A Growth Mindset Journal for Children
Have you heard of growth mindset? This journal teaches children to embrace challenges, to persevere, and how to grow from feedback. These skills are so important and translate to the work we do inside the dance studio. The Big Life Journal would be perfect for dancers of all ages.
8. Caboodle
The Caboodle is back! Dancers tend to acquire a lot of accessories. Between the bobby pins, hair ties, and performance makeup; it can quickly get overwhelming! This would be a great option for dancers to keep their things corralled and organized. They will be more than ready for the next performance!
9. Set of TheraBand Resistance Bands
TheraBands are great for muscle strengthening and injury recovery. They are an essential addition to a young dancer's dance bag. Resistance bands are a great way to work on strength outside of the classroom and to fire up the most important muscle groups before class. Get the set of 3 different resistance levels on Amazon.
10. JoJo Siwa Singing Doll
This last one is a fun one specifically for our younger dancers. If your little one can't get enough of JoJo and her bows, this doll might need to go on your list! JoJo is a singing and dancing sensation. She encourages girls to be confident and speaks out against bullying. That is a mission we can get behind!
Are you feeling inspired? We are so fortunate to have dancers that are passionate about the performing arts. We love coming up with gift ideas that support their passion! Hopefully, these gift ideas put a smile on your dancer's face.
We are sending warm wishes to all of our dance families this holiday season. Happy holidays from all of us here at Mariann's School of Dance!